Margarine is celebrating its 150th birthday this year. A milestone anniversary, yet the butter replacer is not looking particularly good for its age. It was originally created for Napoleon III in 1869 as a cheap butter substitute for the French armed forces and lower classes. By the mid-20th century, margarine had overtaken butter in popularity, but its glory days seem all but over.
That's surprising, as generally plants are rather trendy at the moment. They are making a definite comeback in our interiors and are hits on the supermarket shelves too. And, you might forget, margarine is a plant-based product.
Whatever the reason – environmental, health, animal welfare or taste – many of us are looking for plant-based alternatives. Even in carnivorous America, 39% of the population are actively trying to eat more plant-based foods, according to a recent Nielsen Homescan survey. This demand has translated into the launch of heaps of innovative plant-based products. New brands are popping up everywhere, and a wide range of plant-based alternatives are posting significant growth. Where in the past these categories might have been awash with plethora of niche brands, we are now seeing players such as Oatly or Earth Balance firmly establishing themselves. And retailers, including Waitrose and Marks & Spencer, are investing heavily in their own vegan ranges, such as M&S Plant Kitchen launched to co-incide with the last "Veganuary".
As a category margarine, of course, has a major perception issue. It is almost the poster child for over-processed foods. Its initial popularity was in the post-war era when these were seen as a positive, safer and better-quality alternative to farm products. Margarine also suffers from bad health credentials, known for containing trans-fat, which has been associated with an increased risk of heart disease. Yet many of today's margarines have 0% trans fats, and actually contribute to better heart health.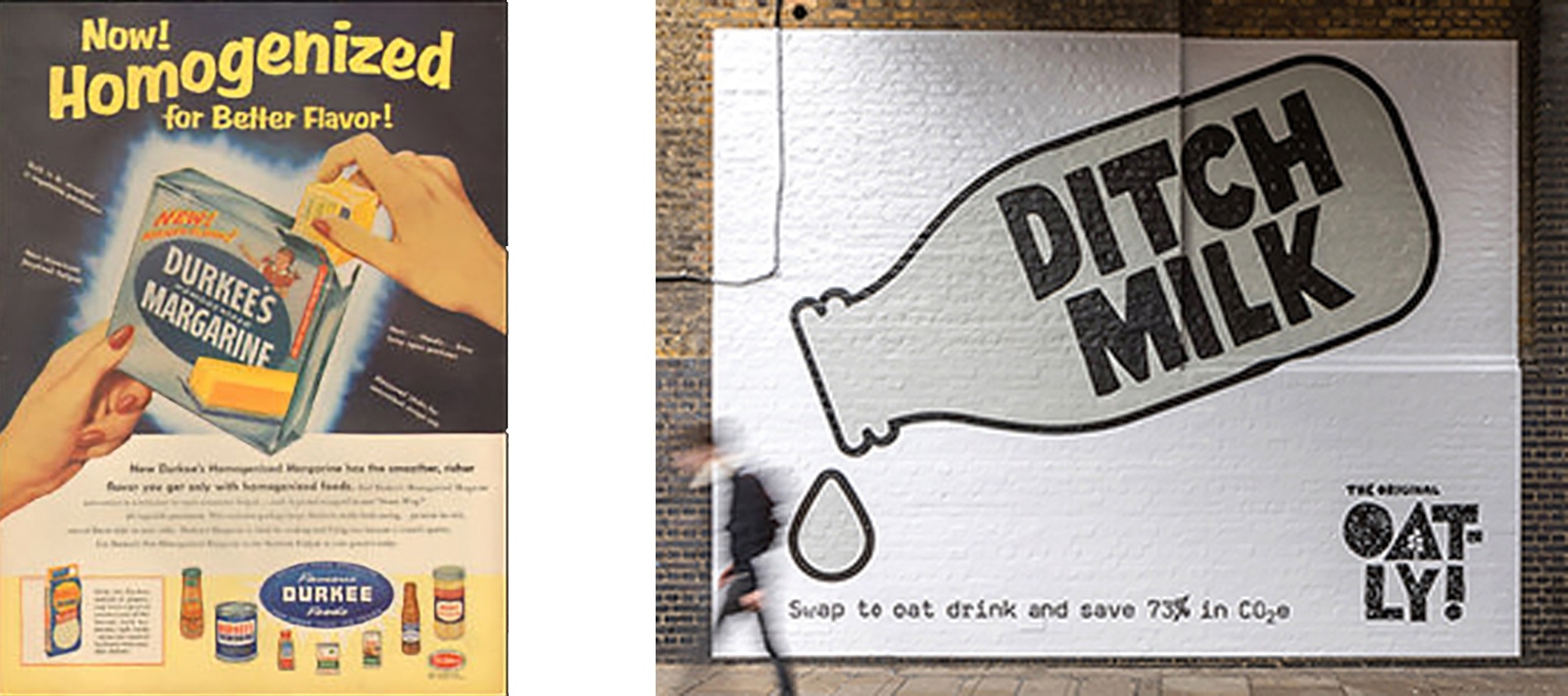 Yellow fats
Unilever used to be one of the world's largest producers of the "pretend butter", with household brands such as Flora and the amazingly named "I Can't Believe It's Not Butter". This, however, was never the sexiest part of its business. Internally, the margarine category was given the alluring moniker of "yellow fats". And here lies the problem. Unilever never really saw its future potential, and this resulted in the sale of the business two years ago. Unilever said the margarine business was a "declining segment" that could be "better managed by others".
It is not that Unilever doesn't believe in the power of plants. At the end of last year, it acquired The Vegetarian Butcher, a growing meat-free food company based in the Netherlands. Yet it continued to view margarine as a low margin product from a different century. Newly-launched in 2019, it would be a completely different category. It's hard to avoid the conclusion that Unilever should have put its marketing prowess in repositioning a whole category, not individual brands.
New owners new vision?
Under new ownership, Flora decided to go 100% vegan, removing dairy from its complete portfolio of products. This is the first major relaunch from Upfield, Flora's new owner, and it will be interesting to see if it can learn from Unilever's mistakes. The company paid good money for the Unilever hand-me-downs – a set of old-fashioned brands that have been starved of investment for years and are pretty low on consumer love. To get a return on that investment, Upfield should start by reframing margarine away from butter. To capitalise on the growth of plant-based products, it should see its brands competing with a Koko, Good Karma or Rebel Kitchen.
Upfield, and other margarine brand owners, will need to transform their brands by leaving behind the old visual language of margarine, focus on real product innovation and target a younger audience which doesn't know the previous century margarine. Only then can they unlock the power of plants for the margarine business and secure the next 150 years for the product.
Author: Wybe Magermans – Managing Director.