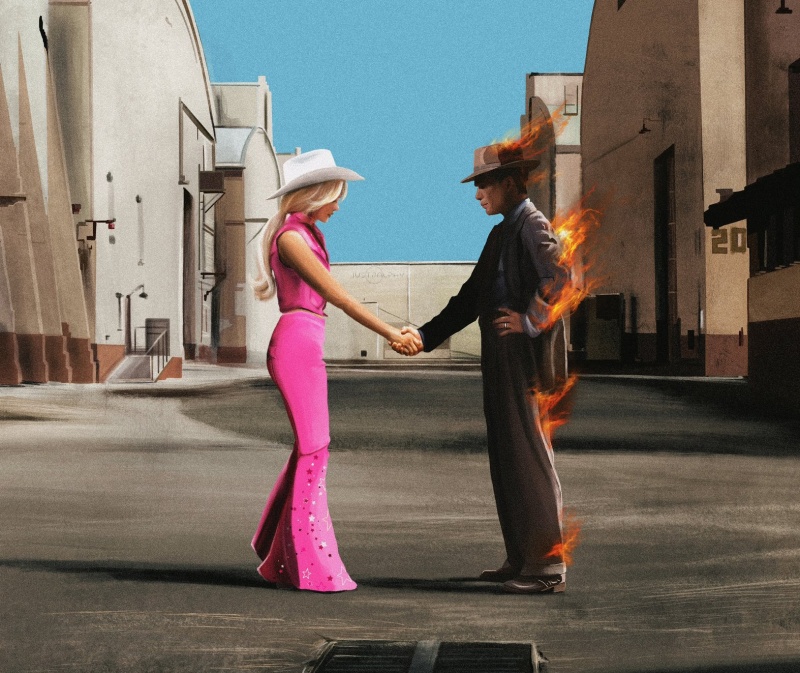 Barbenheimer: The Petty Revenge Ploy Saving Cinema
The cinema industry hasn't been doing too hot since the pandemic. Even 2 years post-lockdown global ticket sales are down over a third compared to 2019.[i] The rise of hybrid working led to social venues like pubs, restaurants, comedy clubs, and cinemas losing a large chunk of after-work footfall. Moreover, the 2021 trend of major studios releasing high-budget films on streaming platforms same day as their cinematic premieres made movie theatres to many redundant.[ii] Ironically, this move, initially seen as the death knell for cinema, may have also created its potential saviour.
The Brewing of a Conflict
December 2020 Warner Bros. announced that its 2021 films would all be released exclusively on its streaming service HBO Max, and that pissed Christopher Nolan off, a lot.[iii] It pissed him off so much that after working with them for almost 20 years, he cut his ties, and a year later revealed that his upcoming movie Oppenheimer would be distributed by Universal Pictures instead and would be released on July 21st, 2023.[iv] Warner Bros. could not let this go and in April 2022 announced that their much anticipated movie Barbie would be released on the same day.[v]
The Birth of Barbenheimer
The public went wild. Well, the public was already going wild about all the press release surrounding both movies, especially Barbie, but the two starkly different movies being released on the same date really took the cake. On one end we have a fantasy comedy about an iconic fashion doll Barbie, the epitome of "la vie en rose", and on the other end we have a dramatic look at the life of the creator of the atomic bomb – "death, destroyer of worlds". The memes juxtaposing the two films started flooding in and the term "Barbenheimer" was coined to describe the rivalry. However, as the release date approached, we saw how the two grew from enemies to lovers with many, including films' cast members, suggesting to watch the films as a double feature. Thus, a beautiful symbiotic relationship blossomed.
The Barbenheimer Experience
The earned social media buzz, amplified by their combined star power and Barbie's marketing efforts created a truly unique cultural experience. People started hosting Barbenheimer cinema viewings and parties with their friends, pink cocktails and fedoras included. These are often paired with dressing up as a character from either film, making it easy for Barbenheimer marathon participants to identify each other. More than once was I tempted to shout "Hi Barbie! Hi Ken!" to a group of people dressed in pink, and more than once have I seen randoms strangers bonding over this experience.

In my opinion, this is the first time since the first Avengers movie that people are reminded what's so special about the cinema: community. Michael O'Leary, president and CEO of the National Association of Theatre Owners, said "People recognised that something special was happening and they wanted to be a part of it."[vi]
What does this mean for Cinema?
Humans have an innate, unstoppable craving to be part of a community. This is especially true in a post-pandemic world with non-walkable cities and an onslaught of information at our fingertips. For cinema to survive, cinema owners need to take this to heart and get creative. As Michael Kustermann, chief experience officer at America's Alamo Drafthouse chain said, "A cinema can't just be a four-wall box with popcorn and a movie anymore. You really have to be able to engage directly with your guests, and you have to create a bit more of a 'total night out' type of experience."[vii] Barbenheimer perfectly exemplified this idea – the joy of being part of something bigger than yourself and the giddiness of being in on a huge inside joke is hard to miss. Thus, what started as petty rivalry brought people all over the world together, in their respective local cinemas.
It is difficult to say if the movie industry has learned the right lesson yet. Perhaps they will simply try to recreate Barbenheimer by releasing contrasting movies on the same day, cementing their unwillingness to think outside the box. Hopefully, this won't be the case and we will see more schemes encouraging people to get together with their friends and family and celebrate the release of a new title, at the cinema.